Syresham School Nursery opened its doors in September 2016 when the school took over the running of the local Pre-School. The Nursery now operates in a brand new purpose built facility. We are open daily from 8.50am- 3.30pm taking children from 2 to 4 years of age. We are proud of the care that we provide for the children in our nursery, enabling them to feel safe and secure within the setting.
Come and see what we offer at our next "Stay and Play". The next session will take place in the Spring Term.  Please keep checking here for our next post.
Before and after School Care 
There is provision within the school setting for nursery age children to attend Breakfast club from 8am and Afterschool club from 3:30 to 6pm.  If extended hours are required please contact us.
COVID-19 PANDEMIC
Since returning to nursery in June 2020 we have been running under the main school's Coronavirus Risk Assessment and Operational Plan (this is available on request – please email [email protected] .  Nursery and the Reception Class are a "bubble" within the school environment. Sadly we are unable to have visitors into nursery at the moment and are limiting places to keep staff changes at a minimum.  Please contact us if you are interested in a nursery place for your child.
The Nursery is led and managed by a highly trained team of staff. The Headteacher, who specialises in the Early Years, manages the Nursery and is supported by the Deputy Manager who is also the Reception class teacher. This team overseas the planning and organisation of the Nursery while the Playroom Leader and her team run the daily sessions. Staff have close relationships with all of the children in the settings, with children assigned a Key Worker following their settling in sessions. Our staff to pupil ration for 2 year olds is 1:4 and for children aged 3 and above it is 1:8.
Melanie Bailey
Playroom Leader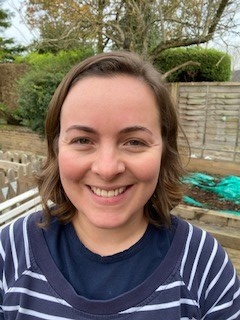 Jessica Urquhart
Key Worker
We provide a safe and welcoming environment where children feel happy and secure. We pride ourselves with the strong relationships that are held between the children, parents and staff.
As the children progress through Nursery they become more independent as we prepare them for life in the main school. All children have the opportunity to take part in adult focussed sessions each day, with phonics, handwriting and number skills being a focus during the week.
The nursery is well planned and laid out to ensure that all areas of the curriculum are covered and provide a rich environment for the children to grow and learn. An outdoor garden provides free flow for the children to independently continue their learning outside with further gardens, climbing frames and playground which provides further space for the children to explore. Our 3 and 4 year olds have the opportunity to work and play in the main reception classroom, as preparation for their transition to school.
The new nursery building has a two-year-old room and a pre-school room. The glass doors allow for interaction between areas but gives the children space to grow and learn within an environment appropriate for their age. The nursery is a planned space to enable children to be independent while allowing staff to support the children where and when necessary. 
All sessions are child led, with key workers planning activities that interest the children and that build upon prior knowledge and understanding. All children learn and progress at different rates so our weekly planning sessions allow for learning to be personalised to each individual child. Children are allowed free flow around the nursery room, with adult activities planned on a daily basis. We use an online assessment tool that allows staff to record all aspects of individual child development and learning. Parents have a login to the site so that they can keep track on their child's development and add their own comments and observations. Parent evenings are held twice a year with your child's key worker, with all children receiving an end of year report in the July.
We offer over 30 hours of child care a week, Monday to Friday 8.50am to 3.30pm with the option to send your child to breakfast club from 8am and afterschool care to 6pm. The morning start time allows for parents to drop older siblings off at school before the start of the nursery day. Children have the option to  bring a packed lunch or order a hot meal. The nursery offers funding for 2 and 3 year olds and accepts electronic childcare vouchers.
Breakfast Club – 8.00-8.50
Morning – 8.50-11.50
Lunch – 11.50-12.30
Afternoon – 12.30-3.30
Afterschool care 3:30 to 5 or 6pm
Breakfast Club – 8.00-8.50
Morning – 8.50-11.50
Lunch – 11.50-12.30
Afternoon – 12.30-3.30
Afterschool care 3:30 to 5 or 6pm
Breakfast Club – 8.00-8.50
Morning – 8.50-11.50
Lunch – 11.50-12.30
Afternoon – 12.30-3.30
Afterschool care 3:30 to 5 or 6pm
Breakfast Club – 8.00-8.50
Morning – 8.50-11.50
Lunch – 11.50-12.30
Afternoon – 12.30-3.30
Afterschool care 3:30 to 5 or 6pm
Breakfast Club – 8.00-8.50
Morning – 8.50-11.50
Lunch – 11.50-12.30
Afternoon – 12.30-3.30
Fees
Sessions should be booked for the whole term
A minimum of two sessions for 3&4 year olds must be booked in order to comply with the Governments funding rules.  We apply for funding on behalf of parents.
Parents are responsible for registering for the 30 hours additional hours, if they qualify and re-registering when required.  However, we apply for funding on parents behalf.
There is no reduction in fees for planned absence
There will be no refund or credit for sessions missed due to illness or other reason
Lunch club does not include a meal – hot meals freshly made in our school kitchen may be booked and paid for using SchoolGrid (you will be sent log in details on application). Alternatively please provide a packed lunch.
Please refer to our "Conditions of Provision" and the schedule of fees below
We accept electronic childcare vouchers
breakfast club is open to 2, 3 and 4 year olds, as is lunch club
Breakfast Club – £5.45 for 2 year olds  £5.15 for 3 & 4 year olds
Fees for 3&4 year olds:
Morning session = £15.45 (£5.15 per hour)
Lunch Club = £3.25
Afternoon session = £15.45 (£5.15 per hour)
Evening Session = £7.75 to 5pm and £13.00 to 6pm
Fees for 2 year olds:
Morning session = £16.35 (£5.45 per hour)
Lunch club = £3.55 
Afternoon session = £16.35 (£5.45 per hour)
Evening session = £8.20 to 5pm and £14.00 to 6pm
Lunches
Hot School Meals are provided by the catering company Dolce. Children from 2 years of age are able to stay for lunch. Menus are available at the start of each term.  These are on a 3 week rolling programme and can be booked via SchoolGrid at a cost of £2.5 per meal for two courses.  All meals are cooked on the premises in our school kitchen using fresh ingredients.  Meals comply with the Government guidelines for healthy eating.  On registration parents are given a login for SchoolGrid.
Term Dates
The nursery is open during term time only. Please see the attached link for term dates.
Links
Curriculum
We incorporate the Early Years Foundation Stage into our curriculum and consider every activity to be a learning opportunity.
Useful Information including Safeguarding information
Applying for a Nursery Place
Please follow the links below to access to register interest in a place in our nursery or email:  [email protected]
We are always happy to show new parents our lovely nursery, please ring 01280850269 or email for an appointment.  Sadly since 20th March 2020, and for the duration of the COVID-19 pandemic, we are unable to have visitors into the school or nursery.  We hope to have a virtual tour up and running soon.  We are, however, still accepting new children into nursery, please contact us to speak to the Nursery Play Leader on the number above. 
Links
Katherine Clough - The Headteacher
Alison Allee - Administrator and Bursar
High Street
Syresham
Northamptonshire
NN13 5HL
For all enquiries please use you preferred method of contact and we will get back to you as soon as we can.